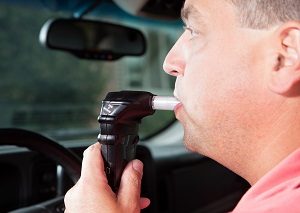 Ignition interlock devices may be required for certain individuals who are convicted of driving while impaired by drugs. Texas Transportation Code section 521.246 establishes the rules regarding the use of ignition interlock devices. The devices are mandated for repeat offenders with multiple drunk driving convictions, as well as for certain convicted offenders who have a high blood alcohol concentration (BAC).
The costs of an ignition interlock device (IID) must be paid by the convicted defendant and the costs can often be quite substantial. The use of IIDs can be a big hassle for convicted defendants, especially as routine recalibration of the devices is typically required.
There has been a dedicated effort to greatly expand the use of ignition interlock devices across the United States, and today most states require at least some convicted DUI defendants to install IIDs in their vehicles.  There are even some advocacy groups who argue that every DUI defendant who is convicted should be required to get an Ignition Interlock Device.
However, even as the use of these devices expands, there are serious questions about whether they actually have an impact in prevention of drunk driving.
Ignition interlock devices make it difficult or impossible for someone to drive drunk during the time while the device is installed in a vehicle. The devices incorporate a breathalyzing test inside of the vehicle. The driver must blow into the breathalyzer test and have his blood alcohol concentration (BAC) tested before the car will start. Periodic retesting may occur as the motorist is driving.
Because the car cannot start when the driver is drunk, unless a sober person blows into the device for him, the devices generally do tend to prevent or at least reduce drunk driving rates during the time the devices are installed inside of a person's vehicle.  However, this seems to be the extent of the benefit.
The Office of Program Policy Analysis and Government Accountability examined re-arrest rates in order to determine whether or not ignition interlock devices had long-term benefits of reducing the number of repeat DUI offenders. The research revealed that while rearrest rates did drop during the time the ignition interlock devices were actively being used on the vehicles, the recidivism rates returned to normal following the removal of the devices.
This result strongly suggests no actual change in attitude or behavior happens because of the installation of ignition interlock devices. The devices only serve as an additional cost and penalty for a defendant, and do not have a net positive impact on reducing drunk driving rates over the long-term.
If you are arrested for impaired driving, you should talk with an attorney to find out what your options are for trying to avoid a conviction and avoid the required use of ignition interlock devices on your vehicles.