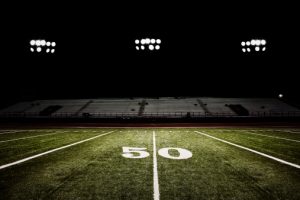 Football season has officially arrived, which means that it is now the prime time of the year for people to watch the game and have a few drinks. Unfortunately, law enforcement officials know that football season is a time when a lot of people like to sip some beers while watching the game with friends. Police step up enforcement of drunk and drugged driving during this time of year, which leads to more people being arrested for impaired driving.
You don't want to get a first offense DWI this football season and end up with your life changed forever, so you need to make smart choices in order to avoid getting charged. If you do find yourself arrested and facing prosecution, you also need to respond in an aggressive and strategic way to reduce the chances that you will end up with serious consequences associated with a drunk driving conviction.
Texas Department of Transportation urges football fans to "plan while you can," and provides some details on impaired driving arrests during football season. The info provided is designed to encourage motorists to avoid drinking and driving. According to Texas DOT, there were 10,676 alcohol-related traffic accidents over the course of the 2014 football season. In these accidents, 492 fatalities occurred. This was a seven percent increase in the number of people who were killed in drunk driving auto accidents during the football season compared within the prior year.
To try to prevent a continued increase in drunk driving deaths, Texas DOT developed the Plan While You Can statewide campaign. The campaign will run through Super Bowl Sunday, and it is focused on reducing the number of DWI-related accidents that happen during football season. The campaign urges all fans to find a designated driver or otherwise determine how they will get home before they attend any events (like parties or games) where drinking is occurring.
The public education campaign is just part of the efforts to help save lives by preventing drunk driving crashes. Because Texas officials are aware of the highest risk days during football season, there are typically more police out patrolling on those days. The days identified as high-risk include both days when professional football games are being played, as well as days where there are local Texas teams playing.
Drivers need to know that there is a potentially greater chance they will encounter police if they drive while impaired on football days. While you should always make a plan to drive sober, it is especially important not to put yourself at risk of  DWI first offense on football days.  If you do find yourself facing charges, you also need to react in a timely and strategic manner by calling an experienced attorney to advise you on your options for responding to drunk driving accusations.